FUTURE EVENTS:
**PLEASE REFER TO THE WEEKLY NOTICES HERE FOR UP-TO-DATE INFORMATION ON ALL WEEKLY & MONTHLY EVENTS **
PAST EVENTS:
Village Service with Tony Jarrett (Sunday 19th June 2016)
Our anual village service took place on Sunday 19th June with special guest star Tony Jarrett. Tony is a British Olympic 110m hurdler, World Champion and Commonwealth Gold and Silver medalist – he talked about faith and sport. After the service there were refreshments along with fun and games in a mini Olympics style! For more details, click on the Flyer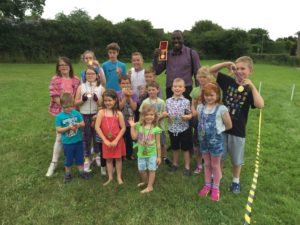 Harvest Festival (27th August 2015)
Join us at Swanmore Methodist church on Sunday 27th September at 10:30am for our Harvest Festival! Children are especially welcome to this family-style service where there will be lots to do. Any non-perishable goods that you can bring will be donated to Fareham basics bank.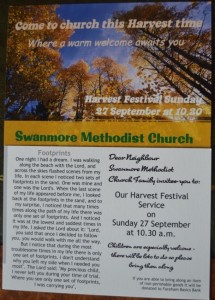 Elemental @ Wickham Festival (6th-9th August 2015)
The Meon Valley Circuit again ran the Elemental Tent at the Wickham Festival this year, providing a place where people could chill and chat and, if they wish, join in prayer or talk about spiritual matters. It was an exciting opportunity to meet and get to know festival goers. Volunteers provided hospitality in the form of serving tea, coffee and cakes and also assistance with craft activities.
60th Anniversary for Alan & Phyllis
On Sunday 26 July our church family celebrated the Diamond Wedding Anniversary (that's 60 years of marriage) of Alan and Phyllis Gilbrook. Alan and Phyllis have been members of Swanmore Methodist Church since October 1994. They brought their family along to join with us all to celebrate their Anniversary. They showed us their Anniversary Wedding Card received from Her Majesty the Queen. Everyone enjoyed a piece of Anniversary cake made by church member Mavis Daniels for Alan and Phyllis. Congratulations from all the church family Phyllis and Alan, we wish you many more happy years; God Bless
Revd Steve Wild (4th -5th July 2015)
Meon Valley Methodists, Hampshire were delighted as Revd Steve Wild met them over the weekend of 4 and 5 July for one of his first official engagements as President of the Methodist Conference of Great Britain.
The weekend commenced with a Barn dance and hog roast on Saturday night at Wickham Community Centre, Hampshire. Members and friends of the Meon Valley Methodist Circuit met to welcome the new President, fresh from the Conference which had only finished two days previously. About a hundred people danced along, fell over, got their feet confused and had a wonderful Saturday night out. Revd Wild gave a short address after the roast had been decimated, and greeted everyone individually with his great big smile and a friendly chat.
Early on Sunday morning Revd Wild travelled to the BBC Radio Solent studios in Southampton for a 7.45 am interview on the faith programme hosted by BBC's Tim Daykin. He later led a morning service at Shirrell Heath Methodist Church. Again he met and spoke with everyone individually before and after the service. He gave a children's talk too with animation using his well-loved puppets, inviting the children to participate with several more puppets in the story of King Ahab and Queen Jezebel. As the service progressed everyone realised his special talents as an evangelist; indeed he challenged every church to welcome a new member this year. The five churches in the Meon Valley Methodist Circuit certainly took this to heart. A member of Shirrell Heath Methodist Church, Ron Carnell, proudly received a certificate from the President for his 60 years as a local lay preacher.
In the evening of Sunday 5 July Revd Wild led a combined service at Waltham Chase Methodist Church. Members and friends of the churches in the Southampton Methodist District were invited. Revd Wild encouraged everyone to look outwards to all their friends and neighbours and tell them about the exciting Good News of Jesus, after all there is so much really bad news around at present. His enthusiasm was infectious and he also blessed people who were to attend the upcoming Wickham Music Festival (6 – 9 August) when Meon Valley Methodists will have a Christian presence with their 'Elemental Tent' as they did last year. Last year the weather was (mostly) kind, let's hope it is this year too. Altogether a fantastic weekend where Christians had fun and were led by a truly inspiring new President Revd Steve Wild: A really Wild weekend.
Village Service with Linvoy Primus MBE (Sunday 21st June 2015)
Written by our local Preacher Kathy Elvy:
Yesterday our prayers were answered when we had a fantastic sunny day for our Village Family Service at Swanmore Village Hall. The service was led by Revd David Moss and our guest speaker was Linvoy Primus MBE.
The service started with David showing us his medal for completing the South Downs Marathon the day before with Mark Chester. The worship was led by our music group. David's children's talk was with Charlie the Chimp who got his football scarfs all mixed up. Appearing first wearing his Saints scarf, before swapping to his Pompey one. Charlie couldn't understand why he couldn't support both??? After it was explained to him and us, he went back into his suitcase and slept through the rest of the service. Well he must have tired bless him, mustn't he!!
After a reading from Scripture, Linvoy Primus shared about his life and charity which is based on Faith and Football. Linvoy shared some of his testimony with us and using his getting the MBE at Windsor Castle as an illustration, talked about the Parable of the Great Feast which can be found in Luke chapter 14. It was simply awe inspiring, for here was a man so humble, yet passionate about the difference faith has had on his life. In a society where today's footballers get paid what can only be described as silly money and live their lives in the public eye being worshipped and adored, Linvoy was the epitome of all that can be achieved by working with others, showing them the important things in life and the difference they can make. Here was a man showing the positive side of sport and how faith can play an important part in the life of a sports person. The two can go hand in hand, if only we allow them to. The same things Linvoy shared about Faith and Football can be related to the things that are important in our own lives. You don't have to be a professional footballer, we can be just us with our own individual situations. It was a shame when his talk ended as could have listened to him for hours.
after the service there were refreshments and games outside. Needless to say all the youngsters (and a few older ones) wanted to have a kick about with Linvoy. He gave of his time, whether chatting to people or playing football with the kids. What an inspiration he is to us all, and he surely was the perfect speaker for our Father's Day Family Service. Thank you Linvoy, you were great.
Thanks to all who helped to make this such a powerful witness to our community. There must have been about 100 people there, which was superb. In the words of one of our visitors yesterday, we must do this more often. Next outdoor event will be at the Wickham Festival. Hope to see you there.
Church Birthday Party! (Sunday 8th June 2014)
On Sunday 8th June we celebrated the Church's birthday (Pentecost) with a special event at Swanmore Village Hall, New Road, Swanmore, SO32 2PF from 10:30am to 2pm. The day started with a family service led by our minister Rev.David Moss after which there was entertaiment from Eastleigh Fusion Chior, a number of fun activities including a ballon popping challenge, giant jenga, football & more. Free refreshments were provided in the form of a hot dogs, ice creams, teas etc. A great day was head by all. For further details, refer to the Big Birthday Party poster
ALPHA! (4th Feb – 8th April 2014)
A successful Alpha course was completed here in Swanmore in the Methodist Church for around 8-10 guests. Each of the ten sessions included food, a short talk and a discussion at the end where thoughts were shared. Alpha really is for anyone who is curious. The talks are designed to encourage debate and explore the basics of the Christian Faith in a friendly, honest and informal environment. Here is a link to the Alpha website if you would like to find out more http://www.alpha.org
Junior Church 150th Aniversary
On Sunday 14th July 2013 we celebrated the 150th aniversary of our junior church! This fun-packed (and very hot!) day took place at Swanmore village hall and began with a joint service with St.Barnabas parish church, lead by our Minister Rev'd Davis Moss. The days activities included music, puppet shows, BBQ, afternoon teas, games and fancy dress – all based around a Victorian (1863) theme! A great day was had by all.
Winchester Mayor at Swanmore Methodist Tea Party! (April 2013)
On Tuesday 9 April Winchester's Mayor was entertained to a posh afternoon tea party prepared by the youngsters of Swanmore Methodist Junior Church.
Under adult supervision the young people had cooked an assortment of cakes, sausage rolls, scones with jam and cream, sponges and meringues. They also laid the tables and served the teas. The Mayor, Councillor Frank Pearson, and about thirty older people from Swanmore had been invited to tea in the Methodist Church Hall.
Complete with fine china the posh afternoon tea was the idea of church member Mavis Daniels who had led the children's cookery club baking session earlier in the day. Mavis was supported by a team of willing adults who cut sandwiches and washed up.
At the end of proceedings the Mayor was presented with a cheque to the value of £960 for his charities. This was raised from a previous Swanmore Methodist Church fundraising activity "The Quizzine" held earlier this year, again organised by Mavis Daniels.
150th Church Aniversary (February 2013)
On the weekend of 2nd and 3rd February 2013 Swanmore Methodists celebrated their 150th Anniversary of the Church. Located in the Meon Valley Methodist Circuit, Hampshire, Swanmore Methodist Chapel was built in 1862-3 at a cost of £135. It has the honour of being the oldest surviving Methodist Chapel in continuous use in the Meon Valley Circuit. In fact the church continues to expand having had the latest big extension added in 2010.
On Saturday 2 February the decorated church was open for morning refreshments, soup & roll lunch and posh afternoon tea. Our various musicians took turns in playing in the church. There were illustrated displays of the life of the church during its 150 years.
On Sunday we had two services with Superintendent Minister Revd David Moss and visiting ministers including Revd Tom Stuckey, past President of the Methodist Conference of Great Britain (the Methodist equivalent to the Archbishop of Canterbury). Revd Tom preached at both morning and afternoon services. A faith lunch welcomed our friends and about 40 people sat down to eat. The afternoon service commenced at 3 pm with friends from St Barnabas in Swanmore, members of the Meon Valley Methodist Circuit and many friends. About 90 people attended and overflow numbers followed the service on a video link in the church hall. The theme of the service was "Wow!" with Revd Tom encouraging us keep expanding, to look to the future and continue to make the Christian life exciting.
After the service there was a short ceremony led by Revd David Moss to dedicate the coloured glass window between the foyer and the Chapel commemorating the 150th Anniversary of the Chapel: 1863 – 2013.
Christmas Events & Services (December 2012)
Details of this years Christmas activities and services can be found by downloading our Events at Christmas 2012 flyer.
Our new stained glass window (November 2012)
On Monday 5 November our new stained glass window was installed into the window space between the Sanctuary and the foyer in the church.
The window is to commemorate the one hundred and fiftieth anniversary of our Swanmore Methodist Church and depicts an abstract form of a dove rising. Also incorporated are the dates of 1863 and 2013. It has been beautifully made by Helen Thompson of Fantasia Glass in Droxford.
We are hoping to dedicate the window at our Church Anniversary service in February next year.
The photos only able to give a limited view so do please come and take a look at the real thing!
Swanmore Methodists get on a Big Yellow Bus (October 2012)
For a week at the end of October a Massive Yellow Double-Decker Bus from Germany was parked at severalMeonValley villages in Hampshire including Swanmore. The Methodist Churches in the Meon Valley Circuit had got together with the aim to build local community with the Bus acting as a focal point for people getting together. We all journey in family life, friendships and in our spiritual ideas.
The Big Yellow Bus visit was the idea of Sam Lobb. Sam had seen it when she was in Europe. This was the first time the Bus had ever been across to Britain.
The Bus had previously travelled extensively around mainland Europe, but was here on our invitation coming from the GermanMethodistChurchwith its driver Patrick, his wife Ingeberg and lively evangelist Barry Sloan. The German name for the project was Zelt Mission (Tent mission). [We called it "The Journey…." ]
Our local Methodists took the Bus and the church families out of their church buildings to the people of our Circuit: the beautifulMeonValley, north ofFareham. The aim was to say hello, be friendly, have a chat, offer all-age activities and refreshments.
The bus was equipped with a cinema and coffee lounge. People were invited just to drop in and chat. There were lots of kids' activities too and all ages were invited.
While in Swanmore the Bus spent the day parked in the car park at St Barnabas' Church (the Anglican church with which Swanmore Methodists have close links). The day being a Thursday it was decided to hold our regular "Buggies and Brunch" in the Bus and evangelist Barry led the young children in singing and in what could loosely be called "an orchestra" – they all had instruments to shake, bang or scrape. They also did craft work and played parachute games. Clarence the clown put in an appearance and the mums enjoyed their usual teas, coffees and refreshments. Later in the day there was a high tea offered to those who usually enjoyed the Faith Teas at church.
A big thank you to all who helped to make the visit a success, whether it was making the teas, entertaining children or talking to the grown-ups. It was all Outreach in Jesus's name.
On other days during the week the bus was parked at venues in Bishop's Waltham, Hambledon, Shirrell Heath, Waltham Chase and Wickham. Activities included fun for the kids; drama and crafts (it was half term week), men's quizzes in the evening (when 42 attended one event – bit of a squeeze!) and even a Rock Gig.
All was financed and organised by the Meon Valley Methodist Circuit and led by our Superintendent Minister Revd David Moss, wife Ali and Sam Lobb as the continuity team, no doubt shattered after a week with the Bus. At the end of the week a short thanksgiving service was held at Shirrell Heath where Patrick, Ingeberg and Barry were all given our blessing before departing back to Germany. Maybe we will meet again, but then life is a Journey….
Jubilee Service & Celebration (June 2012)
Swanmore celebrated the Queen's diamond jubilee on Sunday 3rd June from 10:30am to 3pm at Swanmore village hall. The day started with a family service led by Revd David Moss and was followed by a host of fun activities including Warsash Puppet Ministry, BBQ lunch (courtesy of Meon Valley Lions) , Fancy Dress competition (Royal Regalia), afternoon teas and various games. About 120 people come over the course of the day, we had no rain and the sun came out in the afternoon! A selection of photos are shown below. See the Jubilee Flyer here.
Church Weekend Away (April 2012)
Twenty four of the older members from Swanmore Methodist Church accompanied by Pickles the dog visited the Isle of Wight on the weekend of 13 to 15 April. Also with us were our Superintendent Minister Revd David Moss and Alison who managed to keep most of us pensioners in order over the weekend.
We all stayed at the Christian holiday and conference centre of St Rhadagand's in St Lawrence, just outside Ventnor. The weather was excellent and walking along the beautiful cliffs on the South side of the island enabled everyone to enjoy the delights of this early spring break. The weekend was very informal and everyone could "do their own thing". On Sunday we all converged on the village of Niton and squeezed into their Methodist Church where we joined a very friendly congregation for morning service. Niton Methodist Church is a church which has grown in membership phenomenally over the last five years or so, their secret appearing to be keep things simple, bible-based and prayerful. It helps to have some lively music too, as we at Swanmore are blessed with, having a very good music group in our own church too.
Finally on Sunday afternoon we all departed across the water back to Swanmore with fond memories of fun and fellowship together. There was even talk about doing it all again next year. But that will be another story!